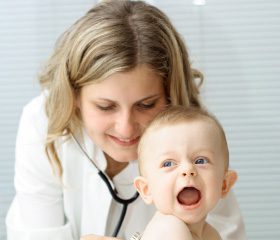 In the medical field, doctors need to be on-call 24/7 as emergencies can arise at any time. However, most doctors' offices are only open during regular nine to five business hours. What does a patient do when they need to speak to their doctor regarding an emergency that arises in the evening or the middle of the night, such as when a baby becomes sick? What if a senior citizen needs to ask an important question about a prescription? What if a patient needs to schedule a next-day appointment? If an individual cannot contact their doctor for assistance, they may find themselves in a difficult position that, in some cases, could even be life threatening.
Medical answering services are a must-have for doctors and other medical professionals to ensure that their patients will have contact with the office day or night and will be assisted in a timely, professional manner. As is the problem with all other professions, many clients can become exasperated when no one is available to take their call. Medical professionals could lose their patients due to a customer service problem as simple as not being able to reach a live representative when help is needed.
Unlike the days of old where "while you were out" notepads were the standard means of communication between the receptionist and the doctor, medical answering services have come a long way to keep up with technology. Nowadays, answering services can provide notification of messages from clientele via the web, fax, and even text messaging. When a patient calls and informs the live answering receptionist that their blood sugar is falling dangerously low or that they are running a high fever, the doctor can then be notified via text or voicemail that he is needed promptly, if not patched through to the call immediately. Obviously, this is not only good for business by demonstrating to patients that their physician is truly professional and compassionate, but it could also potentially save a life.
Recently, a new national medical answering service was launched to help doctors and other medical professionals to be on-call 24/7. Live Answering Network (LAN) announced in a news release that it has begun offering a variety of unique services to help medical professionals stay in touch with their clients. According to their website, www.liveanswering.net, live receptionists not only answer calls for medical professionals and patch the call through to the doctor's cell or landline phone, but they also utilize all of the above technology.
Additionally, while answering services have typically been known for answering calls only after hours, LAN also makes its services available during peak business hours when the head nurse or receptionist is overwhelmed. Since no one likes getting a busy signal, or being put on hold with a message stating, "Your call is important to us; your estimated wait time is 20 minutes," live answering services are essential to provide optimum customer service. While one in-house receptionist is fielding a call, a medical answering service like LAN can immediately pick up any overflow calls seamlessly, so there are no lost clients.
Another plus is that patients can be greeted by a live, friendly voice rather than a recording. Although voicemail is prevalent in today's world, the fact remains that most people would rather speak with a live representative. Communication with clients is key, and therefore, the small touch of utilizing immediate answering by real receptionists reaps enormous benefits for businesses in the long run.
Amazingly, medical answering services, although they offer so many perks, are only a fraction of the cost of what a doctor would pay to hire a full-time receptionist. There are also no personnel gaps that would leave the office in the lurch, such as when a regular employee calls in sick.
Especially for a small medical clinic that is limited in staff and funds, utilizing a medical answering service is a necessity. It is an easy way to gain an edge over the competition.